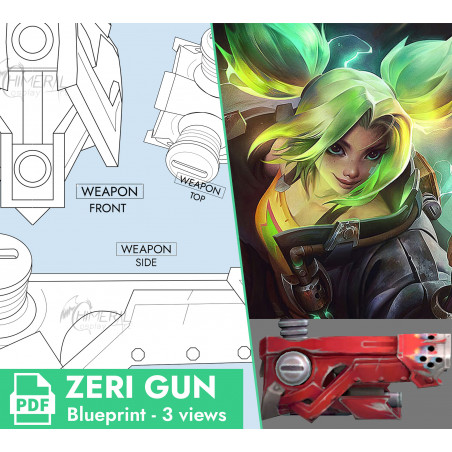  
Zeri's gun - League of Legends - 3 blueprints (front, side and top views)
3 blueprints of the Zeri's gun (League of Legends)

Files included:
- 3 blueprints of the gun : top, side and front views
- A Printing Guide: to help you set up printing correctly, at the right size

OTHER SIZES: You can easily print the files smaller or larger as you wish, by setting the percentage when printing. To set this up, refer to the Printing Guide supplied with this pattern.

/!\ The final prop is not sold, here you can buy the PDF printable blueprints, to make your prop by yourself.

No refund possible for digital files. If you have any problem with downloading or printing the files, please don't hesitate to contact me.
Good crafting!
©Chimeral CosplayArt : Creating these files takes time, please respect and support my work and do not distribute these digital files for free. If people are interested, you can redirect them to the store. Thank you :)
Data sheet
Paper Type

Numétique (E-Book)